During the height of the pandemic, virtual events were the "new normal". Event planners had to navigate through unfamiliar digital technologies and master the creative and technical aspects of executing a successful online event. Webinars, online conferences, and other virtual events have several advantages, like convenience, safety, and cost savings. However, there's one thing we can all agree on: nothing beats face-to-face interaction when it comes to events.
Fast forward to 2022, we finally see more and more face-to-face events and personal experiences. Online events are still here to stay, but it's great to have the option to do conferences, exhibits, business meetings, and other events in an actual physical venue. Aside from virtual and in-person events, another type of event is emerging and it's the perfect bridge between the two: Hybrid Events. 
What is a Hybrid Event?
Hybrid events combine both in-person and virtual (online) experiences. In hybrid events, a portion of the participants attend the event online and the others do so onsite. With hybrid events, the live audience and the online audience come together, participating in the same experience and content at the same time but from different locations. 
Now, how can you make this setup work? Hosting hybrid events is actually easier than you might think. They don't require tons of high-end technology or years of expertise. In this article, we'll share 7 essential factors to consider when hosting a successful hybrid event.
1. Decide whether a hybrid event makes sense for your goals
The first step to planning a hybrid event is to decide whether to include a virtual component in your event at all. In some cases, the nature of an event and its content don't translate well virtually and there's no better way to communicate them than an onsite experience. These include events like small customer luncheons, team building events, and awards ceremonies. On the other hand, some events are much more cost-efficient when done in a full virtual setup. 
Hybrid events are perfect for programs that can effectively be held both virtually and onsite. These include trade shows, conferences, training seminars, and marketing and sales events, product launches and demos. Going for a hybrid option works well for situations when many of your attendees (who would normally attend an in-person gathering) can't do so due to health or safety concerns or venue capacity.
2. Set a clear budget and find ways to cut on costs
Hybrid events require a budget for both the in-person and virtual portions of the event. You'll have to invest in technology to enable video streaming, live venue, catering, and possibly travel costs for speakers and other team members.
Below is a sample list of the event essentials to plan for:
Hybrid event platform

Cameras and tripods

Studio microphones

Live event venue

Speakers and/or travel expenses for speakers

Technical support team

Food and refreshments

Music or entertainment
While hybrid events may be a little expensive, it's possible to minimise the costs by cutting down on the size of your event. For instance, you can limit the number of your venue attendees and convert them into virtual attendees instead. If you have a small number of attendees, you may avail a small yet unique conference venue, reduce costs on food and drinks, or even ditch live entertainment. 
You can also save by finding a fully-equipped and conference venue, which can bundle everything you might need at a cheaper rate. 
3. Ensure the availability of technical equipment and tech support crew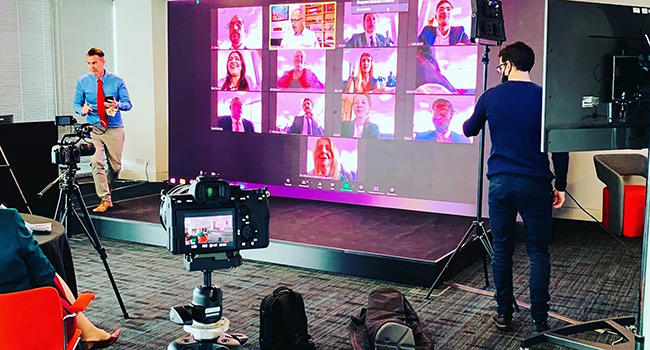 The virtual component of your event requires technology, so ensure that the technical and streaming resources are available. It's also important to have a tech support team should technical difficulties arise during the event. Before renting the necessary equipment or hiring a tech support crew, you may check if the conference venue has these essential resources.
4. Maintain engagement and interaction among your online and live audiences
Hybrid events aren't just a live stream of an event to an online audience. A successful hybrid event combines the best of both event types, creating an engaging, interactive experience for online and in-person attendees. Here, you introduce an interactive online component that's simultaneous with the physical element of the program. 
For sessions available to both audiences, prioritise interaction and engagement. 
Have 2 hosts: a regular host and a virtual emcee, which will serve as a voice for the virtual attendees. 

Acknowledge both online and in-person attendees

Sessions should have a digestible length 

Offer virtual Q&As, live polls, and breakout sessions to keep everyone involved

Make sure you have high-quality content to keep attendees, especially those watching from their screens, engaged. You can also send out on-demand content. 
5. One event, two different experiences 
In hybrid events, you have two different audiences with two different needs. That being the case, it's imperative to find the common ground between these two groups. 
Start by understanding what each group wants from their event experience. For instance, an in-person audience will be more invested in participating in your event and won't mind a full day of sessions. An online audience, on the other hand, will prefer short, easy-to-digest content and will likely be multitasking during your event. 
To cater to a hybrid audience, you may break up your agenda and not have your virtual audience attend every single session that your live audience is attending. You may record these sessions and have them available to watch on-demand at their will.
Author Bio: Carmina Natividad is a passionate writer for Meet in DCU, a unique conference venue in Dublin which is perfect for corporate meetings, conferences, seminars and events. Writing articles about travel and lifestyle is one thing she finds enjoyable, next to playing the piano.